Check out my new line up below: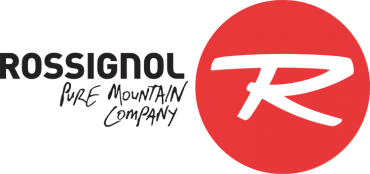 Star 7
Light, playful and hard charging this ski does it all. From straight-lining to stomping the NEW Star 7 has it dialed. Thanks to the Air tip technology, a honey comb design that reduces swing weight these beauties are light and manoeuvrable. The 7 Series is Backcountry Magazines editors choice for the 2014 season and will be yours too. Versatile and stable you'll be slaying powder like never before.
Specs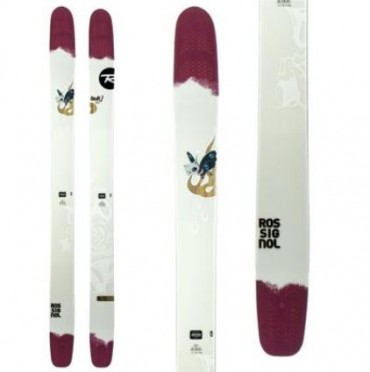 Size Available
162,170,178,188
Weight
4.3 kg
Structure
MINICAP SANDWICH
Core
LIGHT WOOD CORE
VAS
FREE VAS
Camber height
LOW
Rocker height
HIGH
Camber length
*50%*
Rocker length
*50%*
Tip
AIR TIP
Sidecut
140-116-130
Technology
POWDER TURN ROCKER
Profile sidecut
CENTERED
Ski Radius
21 m (188)
Savory 7
My ski of choice this season for everything from multi-day touring trips, to the front lines of freeride competitions. This ski blows through crud and floats over powder. It's light enough to climb all day. Hard charging and playful like its big sister the Star 7 with a slightly smaller profile for when you're not bringing out the big guns. Every woman should have this ski!
Specs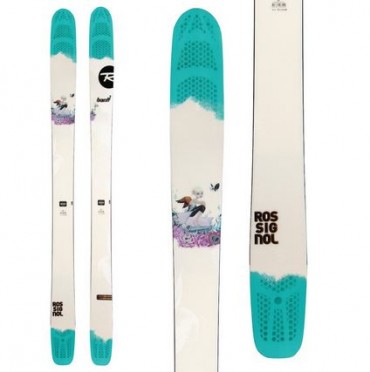 | | |
| --- | --- |
| Size Available | 162,170,178 |
| Weight | 3.9 kg |
| Structure | MINICAP SANDWICH |
| Core | LIGHT WOOD CORE CORE |
| VAS | FREE VAS |
| Camber height | LOW |
| Rocker height | HIGH |
| Camber length | *50%* |
| Rocker length | *50%* |
| Tip | AIR TIP |
| Sidecut | 136-106-126 |
| Technology | POWDER TURN ROCKER |
| Profile sidecut | CENTERED |
| Ski Radius | 17 m (178) |
All Track Pro 110 W
Ask and you shall receive, walk mode and interchangeable rockered soles. The All Track is ready for whatever you can throw at it. With a 110 flex its stiff enough for riding big lines and the walk mode makes those lines easy to access. Pair this boot with the Savory 7 for a side country set up worth bragging about at après.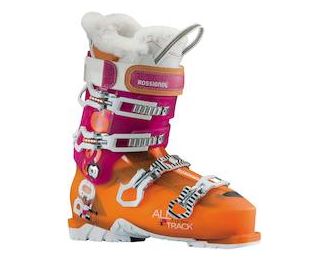 Specs
| | |
| --- | --- |
| Size Available | 22 – 27,5 |
| Last | 100 |
| Flex index | 110 |
| Material – shell | POLYETHER + SENSOR GRID CONCEPT |
| Material – cuff | POLYETHER |
| Shell specification | HIKE MODE |
| Bootboard | PU |
| Liner – technology | THERMO OPTISENSOR 3D T1 |
| Liner – lining | LACES PRESET |
| Liner – tongue | POWER WRAPONE-PIECE TOE BOX |
| Buckles – material | 4 MICRO – 100% ALUMINIUM |
| Buckles – micro | DIAGONAL BUCKLES |
| Buckles – teeth | ADJUSTABLE TEETH 3 POSITIONS |
| Canting | CANTING |
| Power strap | 40 mm |
| Heel pieces | SUPER-GRIP + ARCH PAD |
| Soles | INTERCHANGEABLE ROCKER SOLES – WTR CONCEPT |
[/icon_box]
The Sickle
Rossignol combines full rocker and extended sidecut to produce a playful masterpiece. The ski handles all types of conditions with style and is truly an all mountain slayer. I love slashing pow turns on this ski, the maneuverability is what makes it so playful. Fear not it holds steady straight lining, and is versatile enough to take to the park in the pm. This ski is for those looking to bring feats of free style to the backcountry.
The Rossignol 2013 S7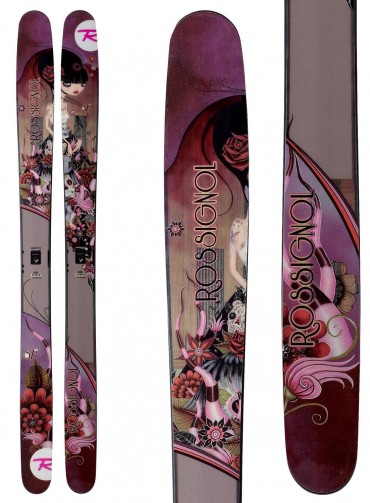 The S7 W employs the same game-changing technology as the award-winning men's version for the lady pounderhound. Hard charging experts and once struggling intermediate skiers agree the S7 W is amazing in it's ability to make powder skiing easier, more fun and less fatiguing for women. The S7 W's Powder Turn rocker combines low camber underfoot with high tip and tail rocker. Powder Turn rocker provides amazing floatation, tracking and an efficient angle of attack that gives skiers effortless steering and instant speed control. The S7 W delivers more maneuverability, easier steering and more forgiveness than any other powder ski on the market. Rossignol has created the perfect powder tool for ladies who have a fetish for skiing the deep and don't mind leaving their boyfriends behind.
The Experience Sensor Inside 130
The Experience Sensor Inside 130 is a race inspired 97mm last with 130 flex index for aggressive expert skiers, whether freeriding or carving the frontside. Sensor Inside technology allows the 3 key receptor points to be in direct contact with the sole of the shell for maximum control and precision. The boot board is rubber for shock absorption while the grippy rubber soles are used for extra traction on those rocky approaches. Hard charging all-mountain skiers will appreciate the maximum versatility and power that the Experience 130 has to offer.
FKS 180 XXL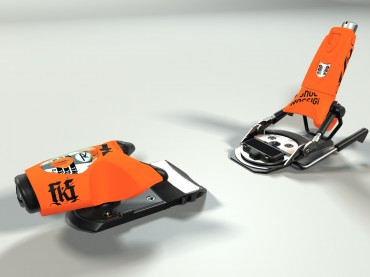 The most trustworthy binding in alpine skiing, the FKS, is back. The FKS 180 XXL features bombproof construction and delivers better retention and prevention of pre-release than any binding on the market. FKS bindings stand alone to feature 7-points of boot contact giving superior control, response and snow feel. Skiers have less concern with pre-release due to the longest elastic travel on the market. The heelpiece rotates with the boot directly under the tibia to give more consistent, reliable and manageable release. The all-metal reinforced Pivot toepiece has 180 multi-directional release with high vertical and lateral elastic travel to provide shock absorption, further reducing inadvertent release. With the shortest mounting zone available, the FKS allows deeper, rounder, more consistent ski flexing, turning, floating and smeering. The FKS 180 XXL features a 115mm brake and provides the most reliable, durable and performance-oriented binding construction available for aggressive freeskiers.
SnowPulse Life Bag 30L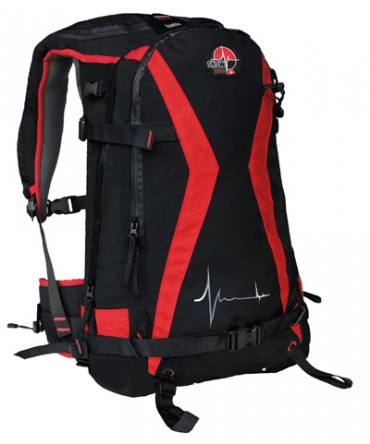 I took a trip to Revelstoke British Columbia on November 04 2009. With me I took a 30L Snowpulse Life Bag. We spent most of our time on Boulder Mountain. Day 1 I sledded up the trail with the pack and day2  I ski toured with it for over 10 km.
Design
Shoulder straps on the pack are padded and thick resulting in overall comfort while wearing the pack. The features of the pack include:
Features
Snowpulse Switch System compatible
1 large horseshoe shaped compartment
Probe and shovel handle sleeves
Back ventilation
Sunglass pocket
Snowboard and ski carrying system
Ice axe holder
Reinforced stitching
With only the canister inside the pack weighs approximately 2.9kg in short and 2.95kg in long.  I found the pack easy to assemble with all my avi gear (enough for a day trip) and no problems accessing the gear when needed. The pull cord is conveniently zipped up in the left shoulder strap to prevent accidental expulsion, which came in handy while sledding up the access trail. The belt buckle is a metal two part clasp that is difficult to release or break on its own, in order to keep the bag on in avalanche scenarios. I also found the rigidity of the back support to be a little stiff and didn't allow the pack to move with my body while touring, but did not have this issue on the snowmobile.
Weight
Once I got all my day trip gear into the pack it was substantially heavier than my other packs and made me appreciate the benefits of a light weight set up. However the benefits seem to out weight the consequences in this matter, so I chose to carry on. I would however hesitate to bring that much extra weight on a multiday trip where speed and agility were of the essence.
Efficiency
To deploy the pack you simply pull on the rip cord. There have been multiple reports on the bags not deploying upon demand however I did not experience having to deploy the pack (knock on wood) I have been assured that when packed appropriately there have been no issues. There is a tiny cover opening in the zipper at the top of the bag that allows the zipper to be ripped open when the bag is deployed. It only takes a couple of seconds for the bag to fully deploy and wrap around your head and neck. The heavy canvas weight material is resistant to blows from rocks and trees and does a better job of protecting it user than its competitors ABS packs. The canister must be filled with 3000psi of compressed air to deploy and can be filled at your local dive shop.
ABS pack comparison
The ABS packs are filled with compressed nitrogen as opposed to compressed air. Also, the air bag deploys like wings behind you in the ABS packs and fails to create the air pocket around the face that the Snowpulse provides. At a slightly heavier weight the ABS pack is defiantly less appealing considering that was my biggest complaint about touring with the Snowpulse.
This year's changes
For 2010 Snowpulse has designed a system where you can zip any size pack you choose from their collection to the canister and shoulder harness, thus allowing you to have multiple size packs without having to buy a separate bag for all you single to multi day needs.
Overall Impression
Overall the pulse bag is one of my top picks for 2010 avalanche safety and has a proven track record in saving lives by increasing your surface area during an avalanche and allowing you to float to the top. Shallower burials equal a higher chance of living and that's a cause worth investing in.
Product:  B-Squad Pro 130 Carbon
At a 130 flex index and a 98mm last this boot is a racers dream, but it's not for racers. Thank you Rossignol. This boot is catering to your pro level freerider. Its design is impeccable. Vibram soles to keep you sticking to the rock while you climb up, and carbon integrated into the upper cuff keeps you stiff and solid on your ride down, and get this it works with both alpine and AT bindings. For those hard landings the B-Squad Pro 130 Carbon has a soft boot board and Rossignol's extra thick power strap helps keep the boot tight to your shins eliminating shin bang. The custom fit liner moulds right to your foot, while the sensor technology will keep you comfortable and hard charging all day. Too stiff for ya? They make a softer version in a 110 flex (100mm last) , or simply remove the top rivet from the spine of the boot to give you a little more flexion. Full canting on both sides and metal micro adjustable buckles. Really what more could you want?
S5 Jago
Sizes : 171, 178, 185
Sidecut : 128/98/121
Radius : 21.3 (185)
Structure : Sandwich
Absorption : JAS
Core : Wood / WRS
Ski Feat : Rebound Tip Twin
Looking for a ski to match your well rounded expertise. Look no further park rats and powder hounds alike will covet this ski. With a poplar/fume and PU core this ski is a solid version of its past counterparts. Nothing can stop you with the S5 Jago as your all mountain tool. Its plows through crud, and with 30 degree side walls the S5 is quick on edge and sticks to hard pack. Boosting and spinning is a piece of cake with Rossignol's WRS (weight reduction system) making the tip and tail lighter to reduce swing weight. The S5 gives is driver the power to go anywhere and do anything with confidence. Check it out at www.rossignol.com
S110W
 SIZE 178CM
DIMENSIONS 140/110/118
STRUCTURE SANDWICH
CORE WOOD
REINFORCED KEVLAR CARBON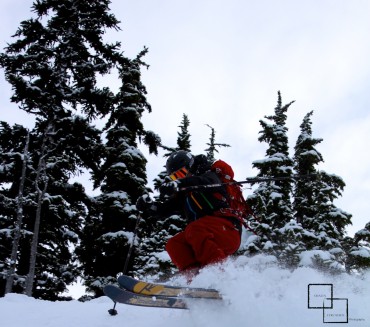 Rossignol Pro RC 112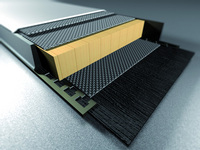 Rectangular Ski Construction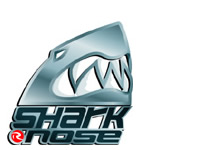 Shark Nose